Expense report
21.ABANINJA & ABACLIK
Manage your expense reports with our mobile app and benefit from automated accounting.
Expense report
21.ABANINJA & ABACLIK
Manage your expense reports with our mobile app and benefit from automated accounting.
​
Scan. Post. Disburse.
Scan the expense document directly on the spot with AbaClik and send it to AbaNinja.
Welcome to 21.AbaNinja – your tool for easy expense processing.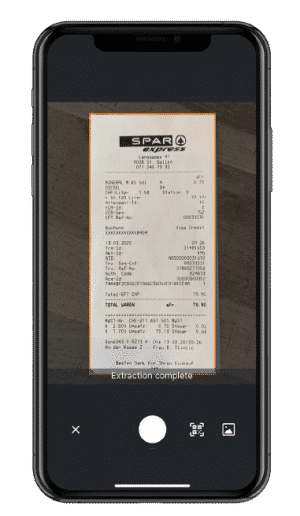 Simple use
Watch the video and experience the simplicity for yourself. 
Thanks to automatic recognition, reconciliation of card transactions and posting using predefined suggestions, recording expenses has never been easier. The receipts can be easily scanned and recognised via the app. Furthermore, the data is processed in real time and you always have an overview of the expenses. Minimum effort, maximum efficiency.
Overview of functions
The most important functions of 21.AbaNinja at a glance. Thanks to a simple, logical structure and an intuitive tool, processing your expenses is a breeze.
Simple recognition of expenses

Reconciliation of card transactions

Scan documents with mobile app



Connection with Cornèrcard
Automatic assignment of VAT rates and expense types
FAQs Expenses
We answer the most frequently asked questions here. Fast and uncomplicated.
Can employees photograph expense receipts with their mobile phones?
Expense documents (receipts) can be photographed easily via the mobile app AbaClik and transferred to 21.AbaNinja. In AbaClik, the data is automatically recognised. In a second step, these can be supplemented with additional information, such as comments or payment type. If necessary, expenses can be charged directly via a sales order or reimbursed to the employee.
How do I establish the connection between AbaClik and 21.AbaNinja?
In order to connect the mobile app AbaClik with 21.AbaNinja, the usual access data (e-mail, password) are required. The connection starts in the AbaClik settings, where you will be guided step by step through the process. You will also be informed which data will be synchronised between AbaClik and 21.AbaNinja.
Why is an expense receipt with the status "Open" transmitted to AbaNinja?
Whether an expense receipt is transmitted to 21.AbaNinja with status "Open" or " Completed" depends on whether the expenses have already been paid. For example, if expenses are to be reimbursed to the employee or paid by invoice, they are transmitted to 21.AbaNinja with the status "Open". From 21.AbaNinja, they can be further processed via the regular payment options.
So how do I maintain an overview of expenses?
You can use the report function in AbaClik to keep track of your expenses. Here you can see all recorded receipts and group them by category or address. 
Can receipts be edited once they have been set to "Paid" status?
Expense receipts that have already been settled as "Paid" can be reset to the status "Draft" via the action "Cancel". The associated bookings are cancelled and the receipt can be edited again.
Frequently asked questions, knowledge base articles and tutorials can be found in our Help Centre. Our dedicated support team and experts are happy to answer any further questions you may have.