Supplier invoice
21.ABANINJA

Manage your supplier invoices easily and free of charge using our accounting application.
Supplier invoice
21.ABANINJA

Manage your supplier invoices easily and free of charge using our accounting application.
​
Upload. Post. Archive.
Paying, posting and archiving invoices has never been easier.
Welcome to 21.AbaNinja – your tool for easy processing of supplier documents.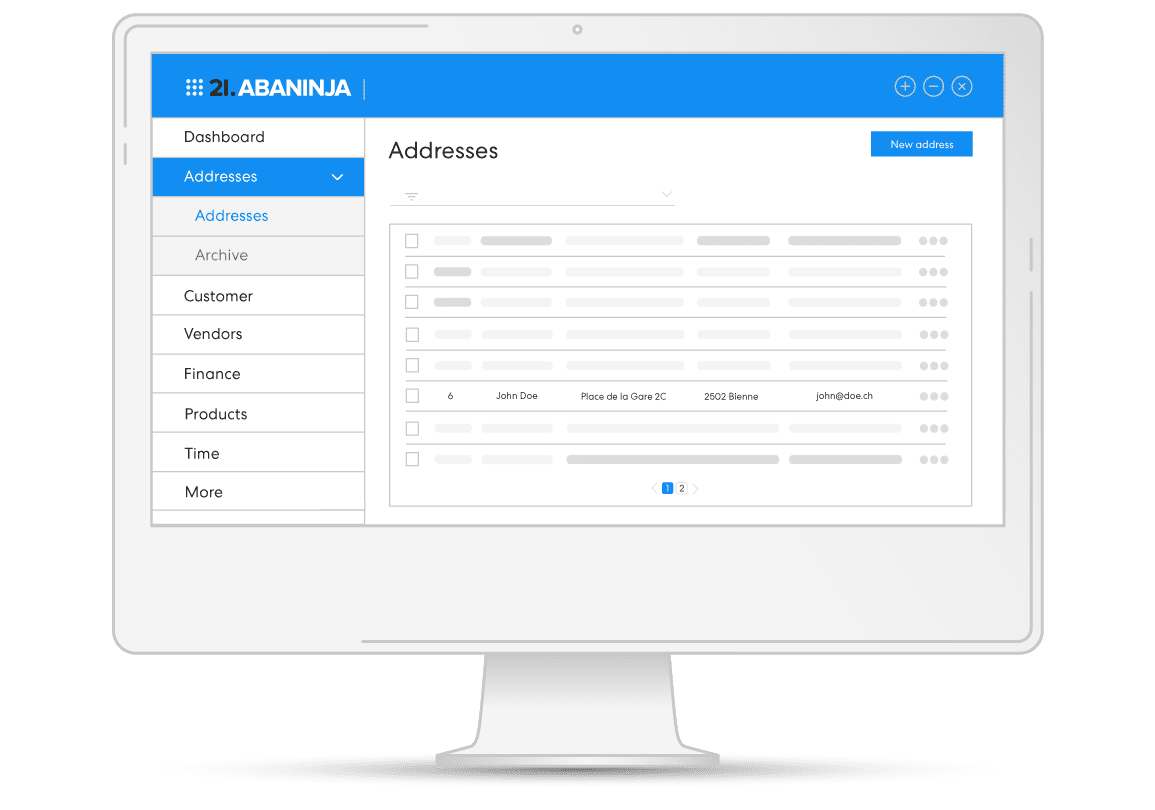 Simple use
Watch the video and experience the simplicity for yourself. 
Supplier documents are entered in seconds with the integrated data recognition and then transmitted to the bank as a payment order. The data is recognised and processed using artificial intelligence and is then be forwarded directly to the responsible employee for approval. Once all payment orders have been entered and forwarded to the bank, all documents are archived. It is even easier with a virtual e-mail address, where scanning of invoices is no longer necessary. Another plus is the automatic account assignment proposals. The data can be exported to a .csv or .xls at any time. Minimal effort, maximum efficiency.
Overview of functions
The most important functions of AbaNinja at a glance. Thanks to a simple, logical structure and an intuitive tool, processing your supplier documents is a breeze.
Data recognition using AI-based recognition services

Integrated release process


Enter payment orders and transmit to E-Banking


Optimal payment deadlines

Receive documents via virtual email address or mobile app

Automatic account assignment proposals
FAQs Supplier Documents
We answer the most frequently asked questions here. Fast and uncomplicated.
Do all data have to be entered manually when processing supplier documents?
When importing supplier documents (vendors), the data is extracted automatically. The existing supplier addresses are matched and duplicate addresses are thus avoided. This significantly reduces the manual entry effort so that you can concentrate on verification and further processing steps.
Can supplier documents be assigned to employees for release?
You can easily assign entered supplier documents to a staff member who must first approve (release) them before the payment can be triggered.
Can the supplier documents entered be paid directly?
The supplier documents entered can be easily paid with just a few clicks. We recommend using the more than 70 bank connections available for this purpose. Alternatively, payment orders can also be transferred manually to E-Banking using the standardised payment files.
The supplier documents can also be paid manually using various payment methods (cash, bank, credit card, PayPal, TWINT, etc.)
Can entered supplier documents be deleted?
For legal reasons, supplier documents, like all other document types (invoices, credit notes, etc.), cannot be deleted. However, it is possible to cancel these documents and then move them to the archive.
Can supplier documents in "Confirmed" status still be adjusted?
If a supplier document that has been entered and released (status "Confirmed") needs to be adjusted, this is only possible if the action "Cancel" is carried out. This reverses the associated entries and the document is reset to the status "Open".
Frequently asked questions, knowledge base articles and tutorials can be found in our Help Centre. Our dedicated support team and experts are happy to answer any further questions you may have.