Time recording
21.ABANINJA
Use our time tracking to keep track of the hours worked by your employees. In addition, there is also a performance recording.
Time recording
21.ABANINJA
Use our time tracking to keep track of the hours worked by your employees. In addition, there is also a performance recording.
​
Enter. Check. Offset.
Every minute worked and service rendered available at a glance.
Welcome to 21.AbaNinja – your tool for easy time and service recording.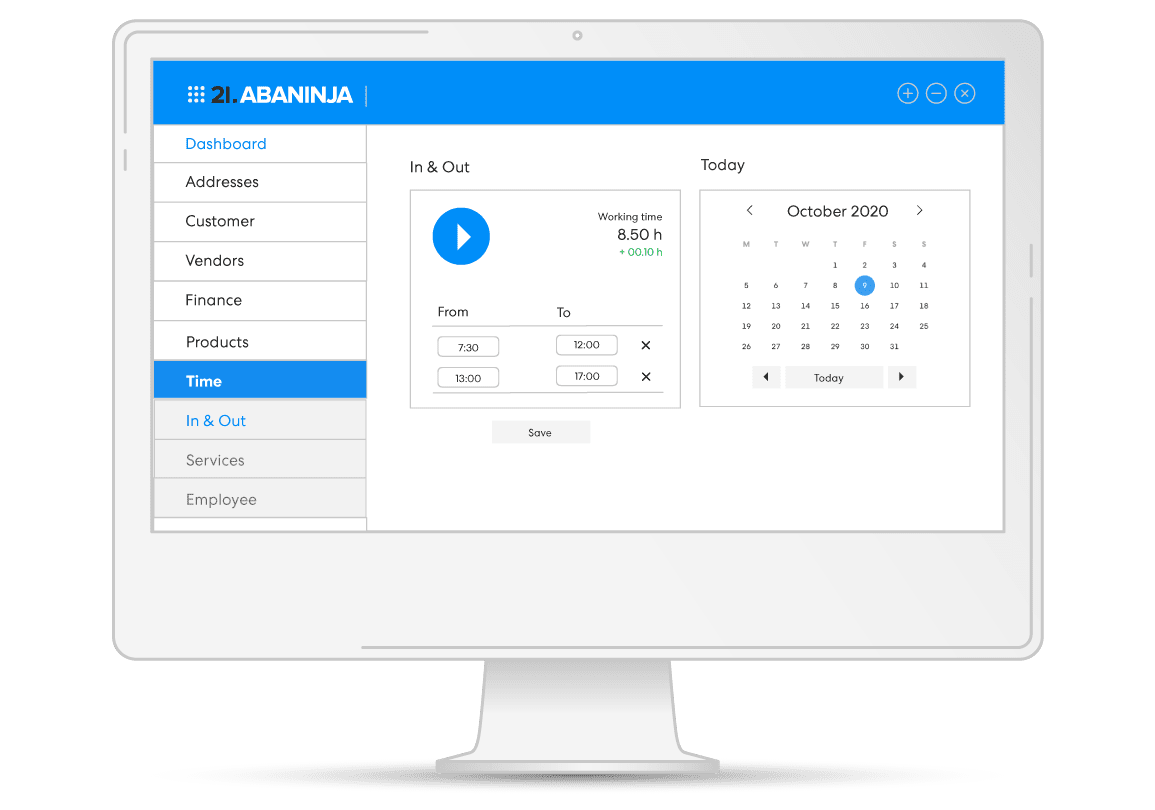 Simple use
Watch the video and experience the simplicity for yourself. 
Unlike manual recording with Excel, 21.AbaNinja allows you to enter time and services in seconds. 21.AbaNinja integrates intuitive time recording with employee groups, target hours and other functions. Activity types can be defined individually and customers can be invoiced directly. Various working time models with target times, holiday calendars and reports are available. Monthly statements are created quickly and easily. If short-time work has to be invoiced, regular working hours can also be recorded and factors for short-time work automatically calculated. Minimum effort, maximum professionalism.
Overview of functions
The most important functions of 21.AbaNinja at a glance. Thanks to a simple, logical structure and an intuitive tool your service entry and time recording is a piece of cake.

Compliance with legal requirements

Report services and absences easily and conveniently
Invoice services with one click

Record via mobile app AbaClik or time clock AbaClock

Multiple reports and evaluations
Overview by means of real-time data 

Holiday and overtime balances
Night and Sunday work with automatic time supplements
FAQs Time & Service Entry
We answer the most frequently asked questions here. Fast and uncomplicated.
Can I invoice customers directly for services?
Services can be reported either in 21.AbaNinja in the Time Recording menu under Services or via the mobile app AbaClik. For billable services, you can select your customer and the respective service product. An order is automatically created for the respective customer and the corresponding service item is recorded. The order serves as a project and can be converted into an invoice and subsequently invoiced with just one click. Various reports give you an overview and show you immediately which services you still have to invoice.
How can working time be recorded?
There are several ways to fulfil the legal obligation to record working hours. You and your employees can record the times (In&Out / Coming&Going) directly in 21.AbaNinja. By assigning the respective user group "Time recording", your employees will only see the input screen for time recording. In addition, the working times can also be recorded via AbaClik or the tablet-based time clock AbaClock.
Can national and public holidays be registered?
The public holidays of the 26 cantons are automatically transferred via an interface. Various absence types such as holidays, compensation, relocation, military, etc. are available via the predefined benefit types. Depending on the service type, the entry is calculated as working or holiday time (influence on planned working time). In addition, time recording can also be used to calculate short-time working. The times and services can be evaluated via various reports.
Can I add my own service types?
You can add your own service types in the settings under Time Recording in the Service Types section. The names and properties (charge to customers, calculate as working time, calculate as holiday time, calculate as short-time work) of your own service types can be defined individually.
How can employees be entered?
Employees are managed in the Time Recording menu. You can flexibly decide whether you also assign a user and therefore access in Swiss21.AbaNinja to an employee. The user invitation takes place in the Settings under User Administration, whereby different access rights can be assigned to the users. Various settings such as working time model or planned working times are stored for the employees in the Time Recording.
Frequently asked questions, knowledge base articles and tutorials can be found in our Help Centre. Our dedicated support team and experts are happy to answer any further questions you may have.