​
Quick. Easy. Online.
Various payroll types and allowances clearly arranged in an overview.
Welcome to Swiss21.AbaSalary – your tool for easy payroll entry.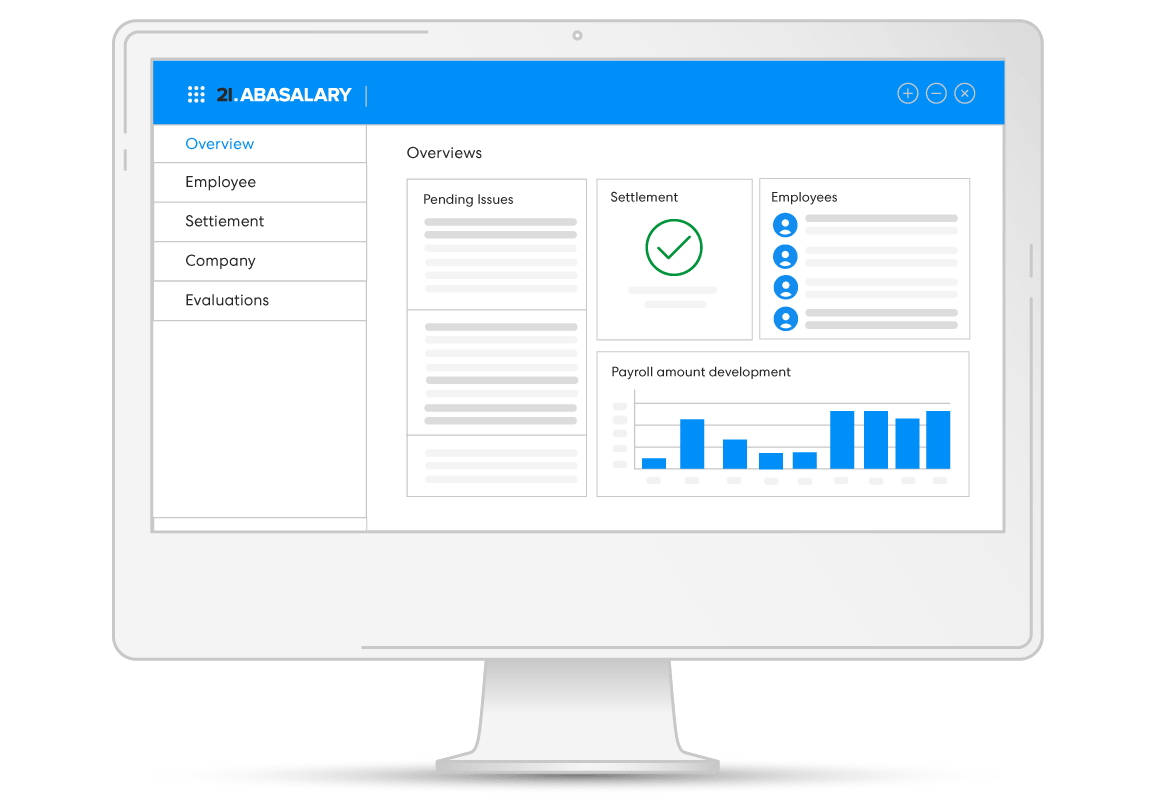 Simple use
Watch the video and experience the simplicity for yourself.
Instead of by hand with Word or Excel, you can easily create payroll settlements with Swiss21.AbaSalary. Thanks to an industry-neutral payroll type master, standard payrolls are a breeze. The monthly or hourly wage, including family allowances, is clearly displayed. The payment of insurance daily allowances and short-time work is also very simply handled. If you wish, it is possible to include a business car on the wage statement. Minimum effort, maximum professionalism.
Overview of functions
The most important functions of Swiss21.AbaSalary at a glance. Thanks to a simple, logical structure and an intuitive tool, processing your payroll settlements is a breeze.

Standard payroll type base



Family allowance according to cantonal rate


Settlement of insurance daily allowances and short-time work


FAQs Payroll types
We answer the most frequently asked questions here. Fast and uncomplicated.
Can payroll types also be adjusted?
No, the payroll type master is predefined. For some payroll types, however, the name that is printed on the payroll settlement slip can also be changed.
Can an hourly wage also be charged to employees who receive a monthly salary?
All employees must be assigned to a payroll type. In certain constellations, however, an hourly payroll type can also be assigned to a monthly wage earner.
What are the payment dates for the 13th monthly wage?
For monthly wage earners, the payment month can be freely chosen. For hourly wage earners, monthly payment is also possible. For employees without a 13th monthly wage, the calculation can be deactivated.
How can the share fro private use be accounted for in the case of a business vehicle?
In the personnel master, only the details of the purchase price and any participation in the costs must be entered.  The necessary payroll types are then automatically calculated and later shown on the payroll settlement.
Is there an industry-specific payroll type master?
Currently, we only offer a sector-neutral payroll type master.  In the future, sectors with a payroll type master will also be covered.
Frequently asked questions, knowledge base articles and tutorials can be found in our Help Centre. Our dedicated support team and experts are happy to answer any further questions you may have.