​
Quick. Easy. Online.
Payroll accounting has never been this easy.
Welcome to Swiss21.AbaSalary – your tool for easy payroll entry.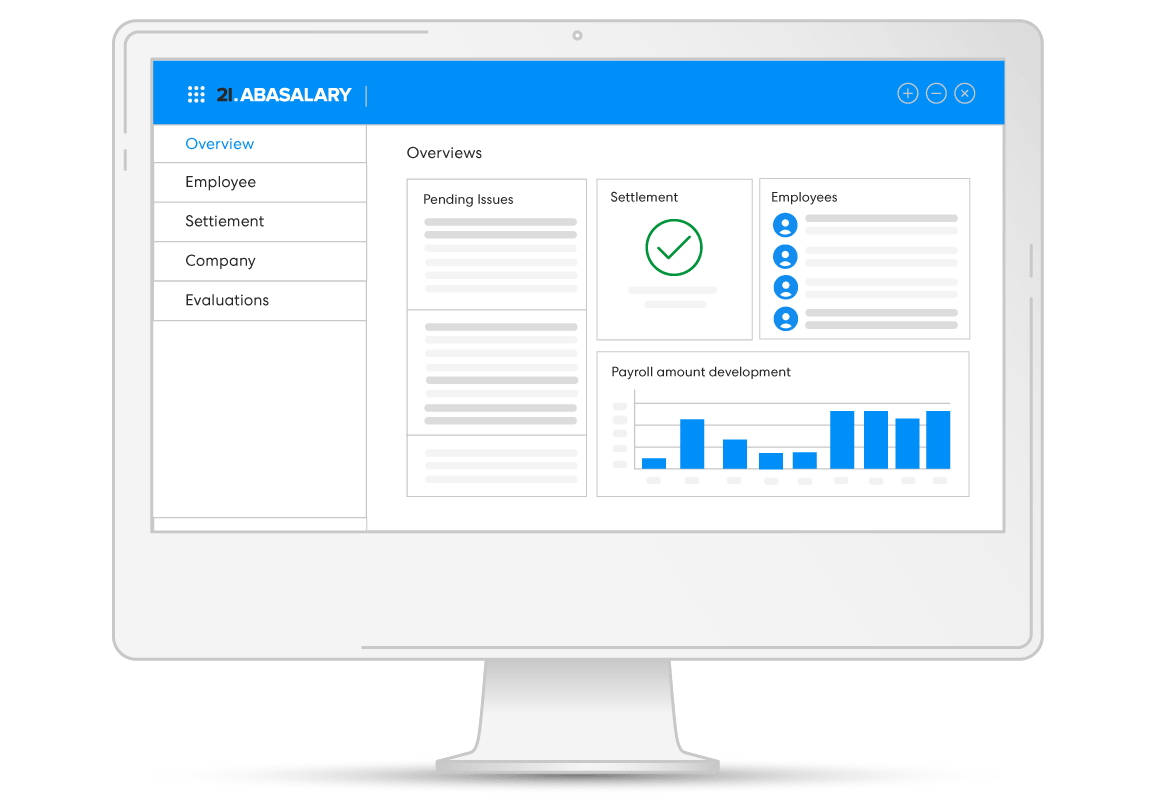 Simple use
Watch the video and experience the simplicity for yourself.
Instead of by hand with Word or Excel, you can easily create payroll settlements with Swiss21.AbaSalary. Swiss21.AbaSalary is based on Abacus Payroll, which has been tried and tested many thousands of times and is always legally up to date. All data is hosted in Swiss data centres and can be accessed anywhere and at any time. If you need help, our digital coaches or your fiduciary will be happy to assist you. Minimum effort, maximum professionalism.
Overview of functions
The most important functions of Swiss21.AbaSalary at a glance. Thanks to a simple, logical structure and an intuitive tool, processing your payroll settlements is a breeze.
Always legally up to date

Easy online collaboration with fiduciaries and digital coaches

Based on well-proven Abacus Payroll


Management at any time, even when on the road
Support with a to-do list

Process-oriented user interface

Dashboard with current payroll figures
FAQs Simple & Intuitive
We answer the most frequently asked questions here. Fast and uncomplicated.
How do I set up Swiss21.AbaSalary?
The Swiss21.AbaSalary home page displays the first steps and helps you to complete the entry of master and employee data.
What information is required for the registration of new employees?
In the personnel master, all employees are validated by the system.  Missing master data is pointed out if necessary.
How does the settlement work?
The few steps in the monthly payroll processing are largely self-explanatory.
What if I still don't make any progress?
If something is unclear, we will be happy to help. You can contact our online support at any time using the permanently visible help button.
Frequently asked questions, knowledge base articles and tutorials can be found in our Help Centre. Our dedicated support team and experts are happy to answer any further questions you may have.