As the editor of the Swiss21.org blog, I really wanted to learn more about its background and the exciting offerings for small businesses. That's why I talked to managing directors Walter Regli, Damian Thurnheer and Sascha Trüeb. They will give you an insight into Swiss21.org's digital business tools. You'll also find out some background about how the company was formed.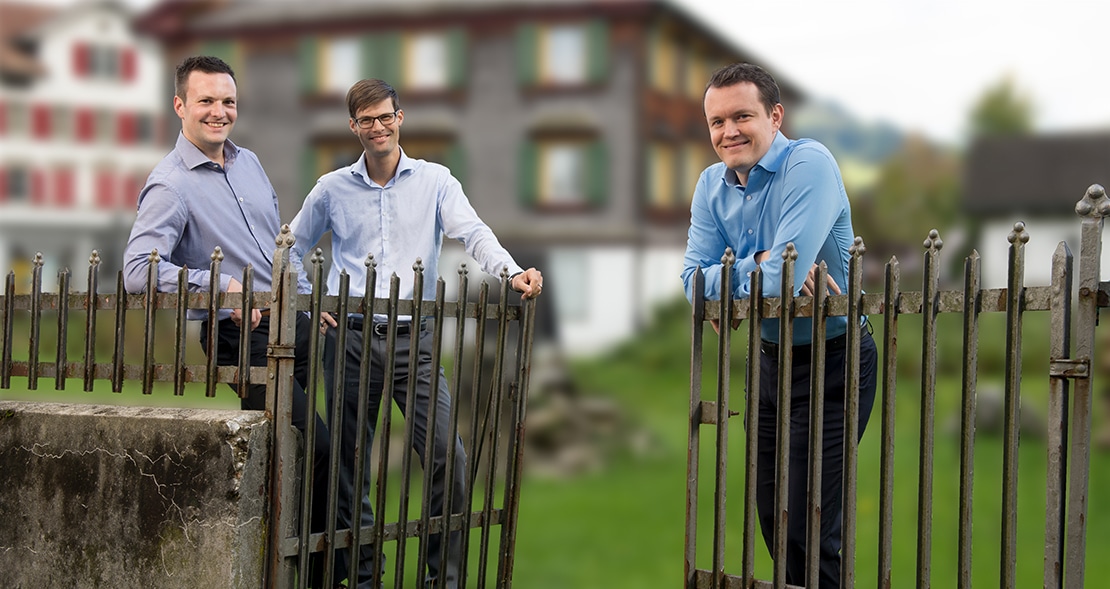 The managing directors of Swiss21.org (l – r): Damian Thurnheer, Walter Regli and Sascha Trüeb. 
Hi everyone. Swiss21.org started out as an online portal that provided small businesses with free business tools. Can you tell our readers a bit about Swiss21.org's background?
Walter Regli: Swiss21.org is an organisation that aims to support small Swiss businesses with digitalisation. Previously, digitalising and automating business processes was reserved for big companies with big budgets. In smaller businesses, a lot is still being done manually. There are various reasons for this. A few of these include a lack of technical knowledge, high investment costs and lack of availability of software solutions that are aligned to the needs of small businesses.
Damian Thurnheer: Swiss21.org's idea is to remove any obstacles that are in the way. The applications are solely run in the cloud, so users don't need any technical knowledge or an expensive infrastructure. They just need a computer and an internet connection to be able to work with the tools. The software is also aligned to the needs of small businesses. There are lots of software solutions on the market, with a huge range of functions. But these are often too complicated to use. One big advantage of digitalisation is that different applications can be linked together and certain processes can be automated. Even though many providers today offer interfaces to other software, the set-up process is often not that straight-forward. That's why Swiss21 apps are connected to each other by default.
Of course, I'd also like to know what specific applications you offer. Can you give us a brief overview?
Sascha Trüeb: Sure! There are three applications currently available on the platform: 21.AbaNinja handles everything to do with finances – from creating and sending quotations, invoices and reminders, through to bookkeeping. The other two apps 21.Shop (an online shop) and 21.POS (an online point of sale system) actually go together but can be added separately due to their different functionalities. CRM is coming soon to add enhanced contact management to the range of functions.
It was recently Swiss Digital Day and there were a lot of posts online focusing on how digitalisation can cut costs for companies in particular. There were millions of posts. Is that also a reason why small businesses should use your tools?
Walter Regli: The main thing is for small businesses to also address this issue and digitalise their operations. This will save them time, which they can then use to focus on their day-to-day activities. Plus, it can often make them look more professional. But it's important to classify the word 'digitalisation' properly. Digitalisation doesn't just have to be about disruptive innovations. Digitalisation also means making current processes digital and thereby making them more efficient. So digitalisation isn't really a new topic – it's just that there's a lot of talk about it at the moment.
That being said, new technological possibilities are getting things moving across all industries: it's easier and cheaper than ever before to set up a company. And thanks to the internet, you can target a much bigger market than you previously could. This means that an electrician isn't just in competition with the electrician from the nearby village but with all electricians in Switzerland. For bigger jobs, they may also be competing with electricians from neighbouring countries.
What makes Swiss21.org unique in comparison to other providers?
Damian Thurnheer: The first thing has to be our organisational form. We think of ourselves as a not-for-profit ecosystem for small businesses in Switzerland. Swiss21.org has the support of various software manufacturers and a neutral management team.
One of the main advantages of Swiss21.org is the depth and stability we bring to the integration of various tools. We deliberately chose the approach of offering the basics in the simplest way possible, whereas the options that we offer are integrated into the ecosystem very broadly. This is a lot more complex than providing an open interface that each manufacturer can use to connect their software to. But in return, we achieve a very high level of quality when various applications work together. Another advantage of Swiss21 is the actual applications. These come from leading manufacturers that each have many years of experience in their industries. So the user doesn't just get well-integrated applications, but first-class, functioning, tried and tested applications that have been well thought out.
How do I start using the tools?
Sascha Trüeb: You can create an account on the website www.swiss21.org. You will then receive an email containing an activation link. Once you click on this link, you can log onto the portal and enter your company information there. The first application 21.AbaNinja is automatically installed and is accessible from the portal's dashboard. To start with, I'd recommend opening this app and going through the settings to see if you want to change anything. You can then install the other apps, like 21.Shop or 21.POS, by clicking on the '+' symbol.
Are the tools designed to be used by one employee in a company or do you need several employees from different areas?
Sascha Trüeb: The tools are designed so that they can only be used by one person. But depending on the application, it's also possible to add other people as users. So, for example, each employee can record their own working hours in the system.
Is it true that you offer the products for free?
Walter Regli: Yes, the basic versions of all Swiss21.org apps are free – up to a maximum of 2,100 records/year, or 2,100 products and 2,100 contacts. Based on our estimates, this is enough for most small businesses to be able to use the tools for free in the long-term. If the business grows, there is the option of increasing this limit to 5,000 for a fixed monthly fee. If the business has special requirements, additional modules can be purchased for each of the apps.
As a team, where do you think swiss21.org's greatest potential lies?
Walter Regli: In Switzerland, there are around 456,000 companies with 1-4 employees. This equates to 80% of all companies in Switzerland. Administration is often still done manually with Word and Excel in these companies. And this is exactly where Swiss21.org's huge potential lies. With our tools, these companies can digitalise their processes and become more efficient without having much expertise and without making any big investments. This improves their competitiveness and promotes growth, which ultimately helps everyone involved: digitalised companies become more profitable and recognise the advantages of digitalisation. Software manufacturers develop new and better functions to make companies even more efficient based on customer feedback. Overall, this strengthens Switzerland as a business location and the national economy.
Are the tools 'just' intended for SMEs, or for start-ups too?
Damian Thurnheer: Swiss21.org can be used by existing companies as well as newly established companies. Swiss21.org is a great starting point for start-ups, because they don't have to change old processes and capital often has to be invested in implementing the business idea.
To finish off, I'd like to know why companies should choose Swiss21.org?
Damian Thurnheer: There's no reason not to: with Swiss21.org, you have the opportunity to digitalise your company with the best technology on the market without any risk and free of charge!
Thank you for the fascinating interview!
Interested? Click on the following link to sign up for free: www.swiss21.org