Frequently asked questions
Do you still have questions about Swiss21? We have summarized the most frequently asked questions for you.
Frequently asked questions
Do you still have questions about Swiss21? We have summarized the most frequently asked questions for you.
My company is growing. Is Swiss21.org scalable?
Your company is growing and you need, for example, a payroll accounting? No problem. All of your data can be easily migrated to another ABACUS Business Software solution such as the web-based online software AbaWeb.
I need help. Where do I get support?
Check out our Helpdesk: During working hours we can also personally answer any questions you have about Swiss21.org via our contact form.
Can I also send invoices through the postal service?
Of course. Create your invoice directly in 21.AbaNinja and change the status to 'Sent'. If you are working with a fiduciary, invoices sent through the postal service will be entered directly by your fiduciary.
How will my customers receive electronic invoices?
Your customers will receive an e-mail with a link. This provides them direct access to a customer portal where they can either pay the invoice online or download it and pay it conventionally. Your advantages: You save postage and can check any time if the invoice has been opened or rejected. Your customer is always informed about the current status thanks to the customer portal.
Which standards does 21.AbaNinja use?
21.AbaNinja uses the European-wide ZUGFeRD standard. PDF invoices with digital signatures are created and can be sent in XML format as an e-invoice at no charge. The XML format allows automatic further processing by both the sender and the recipient without having to manually enter data. The use of XBRL standards allows the fiduciary to create digital machine-readable balance sheets and income statements for banks and tax authorities starting in 2017.
How can I create a second company under "Change company"?
Unfortunately, from now on it is no longer possible to add a second company with the same e-mail address. This led to problems with the synchronisation of the company data. The product managers have therefore decided to remove this option.
In order to create a second company, a new account with a different email address must now be created.
How do I delete an entry?
A manually created entry can be deleted. However, you cannot delete an automatically created entry, only cancel it. Let me explain how to do that.
Important: You cannot delete an automatic entry. You can only delete entries that you have created yourself.
For automatic entries, proceed as follows:  Accounting > Bank statement > Click on the reference invoice.
Related payment > Cancel the payment.
Go to the document (invoices, suppliers, etc.).
Find the related document and cancel it. Edit the document and then change the account.
How do I create a QR Invoice?
Below you will find instructions on how to set up the "QR Invoice":
First you have to request the identification number and the QR-IBAN from your bank.
Once you have these, go to AbaNinja -> Finance -> Banking.
Select your existing bank account or create a new one if you don't have one yet.
Then activate the payment slip.
Select "QR Account".
Enter your identification number and the QR IBAN and click on Save. The ESR account must be empty.

If you have followed all these steps, you will automatically have the QR invoice on your next bill.
For more information, see: How do I create a QR invoice?
How can I change the VAT method?
The accounting method for VAT can only be set at the beginning of a quarter. Thus, the accounting method can also be changed during a financial year.
Requirements:
The change of method is only possible for at least the next quarter.
There may be no entries whose value date is after the start of the new period. Example: If there are already entries for the month of August, a new accounting method can only be specified from October – and not from July.
If all conditions are met, go on to: Settings > Accounting > VAT > VAT periods > + Period.
How can I enter a value date for the wage payments?
You can find the configuration of the value date under "Company – Payments – Wage payments":

How can I pay my employee a "bonus" even though they left the company in September?
To retroactively pay an employee who has already left the company during the year, go to the function under "Payroll", top right with the three dots:

How do I enter other units of measure for products?
It is possible to activate many other units under Settings > Master data > Products > Units of measure Simply search for the desired unit in the "Unit" field. Then click on the "+ unit" button next to it and finally save the setting.
Is our accounting software 21.AbaNinja compatible with Shopify or other e-commerce solu-tions?
21.AbaNinja is only compatible with our commerce solutions 21.SHOP and 21.POS.
Unfortunately, we do not offer API interfaces and this is not planned for the future.
How do I add an employee for time recording?
Go to Settings 21.AbaNinja > User Management > + Add User.
The page will redirect to 21.Portal + Employees > Complete Information > Tick the 21.AbaNinja box > Send Invitation.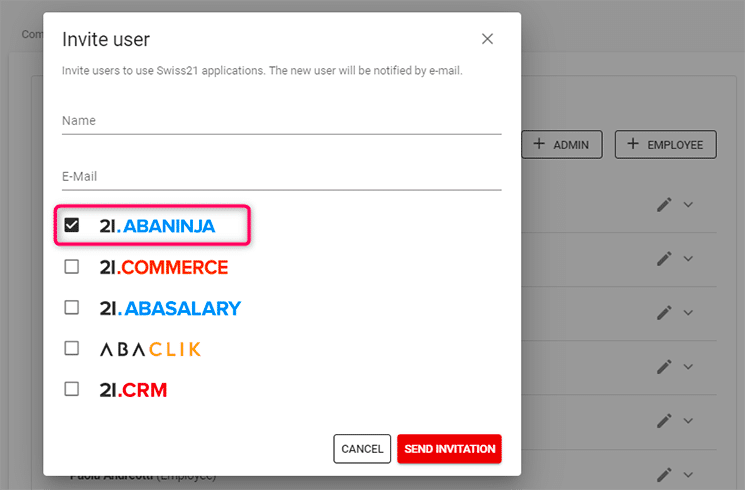 The employee accepts the invitation, then goes to Login 21.Portal and logs in.
Again, go to Settings > User Management > click on the employee you have invited, tick the checkbox for time recording and save.
How will Cornèrcard transactions be retrieved? When will they show up in AbaNinja?
Currently, Cornèrcard transactions are not automatically retrieved by AbaNinja (as is the case for bank details, for example). Currently, all card transactions have to be entered manually in AbaNinja or via the AbaClik interface. Direct synchronisation between AbaNinja and Cornèrcard is also in progress and will be implemented in due course.
More information on synchronisation with AbaClik:
Cornèrcard card transactions can be synchronised with AbaClik, i.e. the transactions are then also visible in the AbaClik application and can be displayed from there with a document. This should then also be posted to AbaNinja's accounting.
The Cornèrcard is also stored as a method of payment in AbaClik. The synchronisation of the Cornèrcard transactions with AbaClik is, as far as we know, immediate and in real time.
QR payment slip in EURO (or other foreign currencies)?
The QR payment slip in AbaNinja cannot currently be used for invoices in foreign currencies. The program only knows that it cannot create a QR payment slip if the invoice amount appears in a foreign currency Unfortunately, this option is not currently available.