​
Quick. Easy. Online.
Disburse, book and archive salaries with ease.
Welcome to Swiss21.AbaSalary – your tool for easy payroll entry.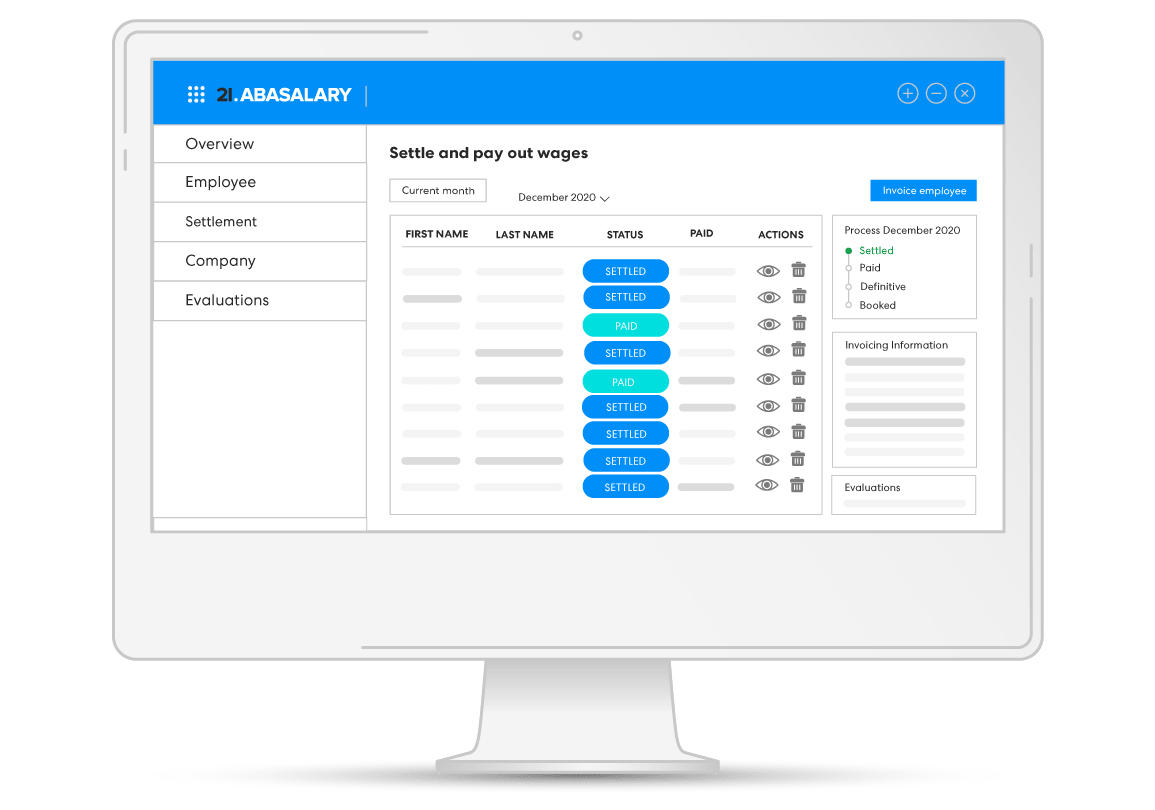 Simple use
Watch the video and experience the simplicity for yourself.
Instead of by hand with Word or Excel, you can easily create payroll settlements with Swiss21.AbaSalary. The payment is made on time and without errors according to the time defined by you. Automatic booking via pre-defined account assignment rules is done with just one click directly after the final payroll processing. Advance or partial payments are also possible in Swiss21.AbaSalary. The payments can easily be transferred with an export. Minimum effort, maximum professionalism.
Overview of functions
The most important functions of Swiss21.AbaSalary at a glance. Thanks to a simple, logical structure and an intuitive tool, and payment and booking is a breeze.

Error-free and timely payment

Automatic booking via pre-defined account assignment rules
Advance or partial payments

Simple export of payment file

Direct transfer to E-Banking

Automatic balance carried forward for any minus payments

Payments to the Collection Agency
Multiple payments per employee and month
FAQs Payment & Booking
We answer the most frequently asked questions here. Fast and uncomplicated.
How are the payments transmitted to my bank?
A payment file can be created in Swiss21.AbaSalary.  This is downloaded and then selected for payment in the e-banking of one's own bank.  In the future, direct order transmission to the bank will also be offered (probably available from autumn 2021).
Can an advance be settled for individual employees?
A partial payment can be generated at any time before the regular payment date.  If an advance has already been paid outside payroll accounting, it can be taken into account by means of the payroll type "Advance payment deduction".
We have a case of wage garnishment. How can this be accounted for correctly?
There are payroll types for two settlement variants.  Either a fixed amount is defined and transferred directly to the debt collection office.  Or a subsistence minimum is agreed upon and any surplus is transferred directly to the debt collection office. 
How does automatic posting work?
By default, the payroll values can be posted to Swiss21.AbaNinja with one click.  The corresponding action is in the monthly payroll process.  This is possible because all payroll types are already pre-assigned in the background.  The automatic posting can be deactivated at any time in the company settings.
Is automatic posting to Abacus Financial Accounting also possible?
No. However, a monthly accounting file can be generated for special applications.  This file can be imported into any Abacus Financial Accounting or other system.
Frequently asked questions, knowledge base articles and tutorials can be found in our Help Centre. Our dedicated support team and experts are happy to answer any further questions you may have.